Ronaldo Luis Nazário de Lima was born September 18, 1976 in Rio de Janeiro. Ronaldo is considered by experts and fans as one of the greatest football players of all time. He won Ballon d'Or as the European Footballer of the Year in 1997 and 2002
He is one of only three men to have won the FIFA Player of the Year award three times, along with Zinedine Zidane
Considered by many as the most complete striker in the past 100 years, in 2007, he was named as one of the best starting 11 of all-time by France Football and was named to the FIFA 100.In 2010, "Player of the Decade" in an online poll of Goal.com, he was also included as centre forward in the "Team of the Decade". Ronaldo has played for Brazil in 98 international matches, scoring 62 goals. He was a part of the Brazilian squad that won the 1994 and 2002 and 2006 FIFA World Cup. He has 15 goals in World Cup and
Ronaldo became the
highest goalscorer
in the history of the World Cup.
Having suffered a string of serious injuries throughout his career, Ronaldo retired on 14 February 2011, citing pain and hypothyroidism as the reasons for his premature retirement.
In 1993, Ronaldo began his football career playing for Cruzeiro. He had 57 goals for Cruzeiro
In 1994-1996, Ronaldo chose to join PSV( Philips Sport Vereniging) after the 1994 World Cup, for he was selected despite being just 17, but did not play.He had 66 goals for PSV
In 1996, Ronaldo chose FC Barcelona,Barcelona was willing to pay the then record fee of $17 million. Ronaldo scored 47 goals in 49 games for Barcelona and in 1997 with 34 goals in 37 games.At the age of 20, Ronaldo became the youngest player to win FIFA World Player of the Year in 1996. He had 47 goals for Barcelona
1997-2002: Ronaldo plays for Inter Milan. Ronaldo go to Inter Milan with $19 million. During his time with Inter, he scored several goals against city rivals A.C. Milan. He had 71 goals for Inter Milan
2002-2006: He play for Real Madrid.
Having signed for
Real Madrid
for €46 million.
he also won an
Intercontinental Cup
in 2002 and
Spanish Super Cup
in 2003.
La Liga
(2):
2002–03
,
2006–07,
Supercopa de España
(1):
2003. He had 118 goals for Real
2007 - 2008: He plays for AC Millan.
On 18 January 2007, it was reported that Ronaldo agreed terms with A.C. Milan for a transfer of €8.05 million. He had 10 goals
2009–2011: He plays for Corinthians. He has 35 goals for
Corinthians and help
Corinthians win.
International career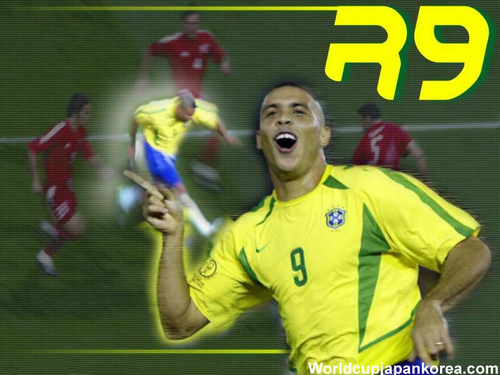 He went to the 1994 FIFA World Cup in the United States as a 17-year-old, but did not play.
He entered the 1998 FIFA World Cup and was billed by reporters and experts as the world's greatest footballer. He scored four goals and made three assists.
During the 2002 FIFA World Cup, Ronaldo again led the national team to their record fifth championship and won the Golden Shoe as top scorer with eight goals. With the excellent show at the World Cup, 3rd Ronaldo was elected FIFA player of the year and is the most awarded this player until that time (in 2005, this record Zidane balance). Ronaldo is also the title of the European Golden Ball his 2nd of the same year.
At the 2006 FIFA World Cup, Ronaldo continues to be a key player in the Brazil team, when it had more young stars such as Ronaldinho, Kaka. In 2006, this is failure of the Brazil team, but can also be seen as a success for Ronaldo. He has 15 goals in World Cup
Individual titles:
Ronaldo is still the youngest player to have won the European Golden Ball title
Prize of FIFA Player of the Year by the head coach of the national team elected in 1996 (the youngest), 1997, 2002, 1998 runner-up prize, 3rd prize in 2003
European Golden Ball by European sports journalists voted the 1997, 2002
European Golden Boot: 1997
Scorer Copa America 1997.1999
Scorer La Liga: 1996-1997, 2003-2004
Scorer Dutch Championship: 1994-1995
At the World Cup:
Most scorer in World Cups: 15 goals in 19 games, fourth period (1994, 1998, 2002, 2006).
Reviews for his partner
Ronaldo, if played right, he is an outstanding player. Although Ronaldo's career with many ups and downs due to injury and the reasons off the pitch, I was impressed by what he's done. Now it's hard to guess whether he can get back to the highest level or not, but my own is always believed that Ronaldo will do. At first glance, his personal technical nothing special but so Ronaldo can do everything he wants with the ball. It is a natural talent that not everyone is lucky enough to have. In addition, Ronaldo is a great scorer, football today is difficult to find a player like him
Raúl González
I try Ronaldo analysis to find ways to learn from him. He has one super-speed, explosive strength to abandon all defenders easily, which is what impressed my place. In addition to technical factors, the results simply are not on par with Ronaldo.